EXPERTISE ABOUT THE FINANCIAL SECTOR AND SALESFORCE: MAX AND TOM REVEAL ALL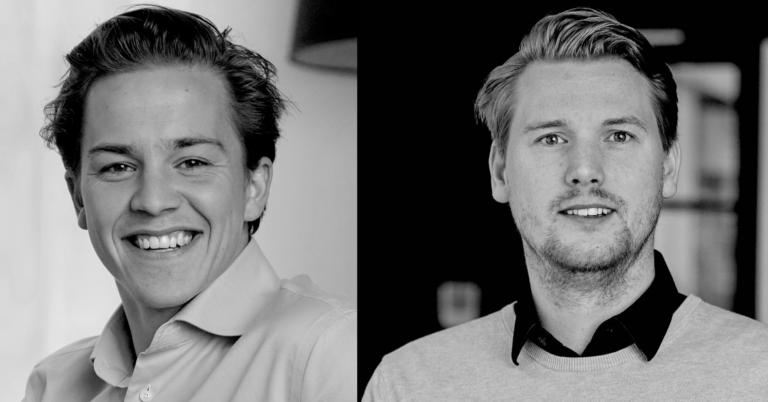 ITDS has been an official consulting partner of Salesforce since April 2021. It's a successful collaboration that has created many opportunities for both our customers and our employees. Max and Tom, who are ITDS consultants with Salesforce expertise, are currently supervising an implementation project at a large insurance company. In this interview, they explain about the partnership with Salesforce, the opportunities it offers internally and for ITDS' clients, as well as future plans at ITDS. "Our expertise enables us to build the perfect bridge to bring Salesforce and financial parties together," insists Max.
Salesforce: a CRM system with almost endless possibilities
Salesforce is a cloud-based CRM system that houses all administrative systems under the same roof. In its own words, it optimises every business process in which customer interaction takes place. Here, you could think in terms of sales, marketing, commerce and customer service. Almost endless possibilities in one and the same system. Together with several ITDS colleagues, Tom and Max are currently supervising a Salesforce implementation process at a large insurance company. "This part deals with all the important information for customers and about customers," says Tom, who is responsible for customer administration. "In a nutshell, I am helping this insurer to gain and maintain an overview with a large volume of customer data. Thanks to experience acquired during previous Salesforce projects, I am well placed to decide, with the customer, which functionalities should be built in, and how. This includes things like automatically creating tasks for users if a customer question has not been touched upon for too long. Or configuring users' rights, such as who is and isn't allowed to see and edit something."
As part of the process, Max has developed application funnels for insurance products. "These are the screens that customers are walked through when ordering a product. They are synchronised with other processes, such as calculating the correct premium, creating a customer account, carrying out validations (CIS), exchanging information with other systems, and generating a quote and a policy. It's my job to analyse the processes and, in conjunction with our customer, decide which functionalities should be built into Salesforce. I also build these functionalities myself and make sure that they all gel properly."
Becoming a consultant with Salesforce expertise
Max has been working at ITDS since November 2020 and this is his first assignment as a consultant. He sees it as an excellent basis for a consultant working in the financial sector. "After completing my traineeship, I felt the need to further my development in the technical sphere and this fuelled a conscious decision of mine to delve deeper into Salesforce. It's also a way of acquiring concrete skills, which I can exploit in the form of worthwhile certificates that will serve me well for the rest of my career. Furthermore, it gives you a thorough grounding in how a company is put together. This kind of knowledge will be important later, because it gives you invaluable insights into how the company is structured and which processes are used across it."
Tom – who is currently a Senior Business Consultant – also kicked off his career at ITDS by doing a Business Consultancy Traineeship. In his case about three years ago. His first assignment was the implementation of a Salesforce project with an insurance company, and it immediately fired his interest in the system. "From that moment on, I followed a variety of training courses to deepen my knowledge of Salesforce and all the possibilities the system offers. I soon found out just how extensive those possibilities are. Building inside the system yourself makes the work very tangible and it's so satisfying to see it all progressing day-by-day. The work also offers a lot of variety. The almost endless possibilities offered by Salesforce means you are doing something different every day."
ITDS as official consulting partner of Salesforce
ITDS has been a consulting partner of Salesforce since the early 2021 and both Max and Tom reckon that it has opened many new doors. "In addition to making it possible to bind new clients to us, it also provides opportunities for new types of assignments," explains Max. "In the past, we mainly focused on implementing the system, which of course, given our extensive knowledge of the financial sector and processes, made perfect sense. In future though, we intend to focus more on the CRM component, the part that's aimed at managing customer relationships. Tom has already taken a good step in this direction."
According to Tom, the collaboration offers many benefits: "We now have access to resources that we would not have had without an official partnership. In addition to extra training courses and certification options, this also includes access to a platform on which we can exchange solutions with colleagues. We have also gained access to a partner environment in which you can submit new leads for projects and get a good overview of your standing as a partner."
ITDS is also working hard to develop the potential of the collaboration internally. For example, for some time now consultants who are interested in Salesforce have been able to join the Salesforce Competence Centre. "This is made up of several people who use Salesforce for carrying out customer assignments," says Tom. "In the context of this group, we share knowledge and work on new opportunities. We also have a training environment offering relevant training courses that can be followed at your own pace, and we write cases and provide substantive training too. Furthermore, we make it possible to obtain Salesforce certificates that are highly valued by customers and even by Salesforce itself. The bottom line in all this is that ITDS wants to develop as quickly as possible and thus keep well in step with the fast-growing Salesforce climate."
Added value through specialist knowledge 
ITDS has been an established player in the financial sector for almost 24 years. A specialisation in the financial sector that is allied to an in-depth knowledge on Salesforce is a combination that you don't often come across, insists Max. "A combination like this really adds value to a project, because knowledge about both components is absolutely essential for its successful completion. A very strong combination indeed!"
Fancy being a colleague of Tom and Max? We happen to be looking for consultants for our Salesforce Competence Centre, so if this is something for you, check out the vacancy here!