Daphne Admiraal: "I'm the linchpin in the team"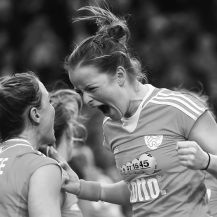 Team spirit is very important to Corporate Recruiter Daphne Admiraal (30). "I love being able to motivate and encourage others to achieve the best-possible result. I think that's one of the key aspects of my work at ITDS, where I see myself as the linchpin in the team."
WHAT MAKES YOUR ROLE AS LINCHPIN SO IMPORTANT?
You aspire to realise an objective, which can only be done if you do it together. It's important to be there for someone if you feel they are not completely comfortable in their own skin. Together with my twin sister, Denise, I played in the Dutch indoor hockey team that was World Champion in 2015. When playing hockey I didn't necessarily score the winning goal. But as a linchpin I made sure that my younger, more insecure teammates believed in themselves and that the key players could remain at the top of their game. After the World Championships, having realised my dream, I fell into a void.
YOU QUIT HOCKEY TO FOCUS ON YOUR CAREER.

HOW IS THAT GOING?

I'm currently processing it all. I had a certain lifestyle before, centred around hockey and continuously focused on the next step. I've always had, and still have, a mindset that tells me: "there's always room for improvement and it can never be good enough". But now I'm looking for the right balance in my work at ITDS. I'm still goal-oriented, so give me a goal to aim for and I'll go for it. But I get frustrated it if it goes too slowly; I guess I'm just a pragmatic doer.
HOW DOES THAT PAN OUT IN YOUR WORK AT ITDS?
I also view my work at ITDS as world-class sport. But rather than pursuing the goal of becoming world champions, our recruitment team chase a growth target that must be realised. I try to approach every obstacle to achieving that goal as pragmatically as possible, so that any problems can be tackled and solved. Every person we hire takes us a step closer to our growth target. This also underscores the importance of making clear agreements. After every interview I always ensure that the subsequent steps and various responsibilities are clear for all concerned. I'm part of a team in which I have every confidence that we'll realise our objectives. However, an important prerequisite is that everyone functions properly and that we all go for the same goal. Just like a hockey team, I suppose. It goes without saying that everybody has their own responsibilities and qualities, but at the end of the day it's important that you work together to realise the same result. We all need to be reading from the same page and have mutual respect for one another. Otherwise, collaboration will suffer and this will impact the realisation of the goal. The process is undoubtedly important, but, ultimately, it's all about everyone working towards the same result.