THERE'S MORE TO BEING A PMO THAN JUST A PROGRAMME MANAGER'S ASSISTANT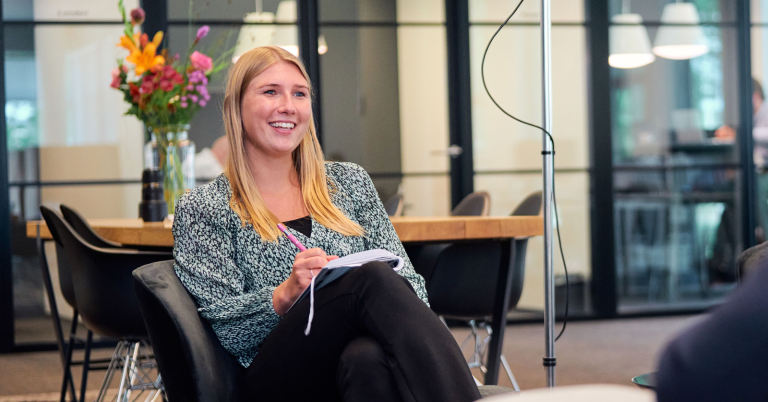 Believe it or not there are still organisations out there that underestimate the important role played by a PMO (Programme Management Officer). And that's a shame, thinks ITDS consultant Loes Kistemaker, who feels that a PMO is as indispensable to a programme manager as a sous chef is to a chef. Loes is more than happy to clarify what makes this role so important.
I have worked for ITDS as a PMO for several years now. I'm essentially the right-hand of the programme manager and it's my job to ensure that a programme is fully and successfully completed. I'm also responsible for monitoring the progress of a programme and communicating this progress to all the stakeholders. I have noticed that many organisations are not (properly) using their PMOs, despite it being such a key position in the company.
Short-term focus
So how best to describe the collaboration between the PMO and the programme manager? Well, both have at their disposal a range of valued qualities that enable them to perfectly complement one another in what they do. The programme manager is often seen as analytical, critical, with a broader focus and concentrating more on stakeholder management and long-term goals. The PMO, on the other hand, is more structured, organised and detailed, with a greater focus on the operational and short-term goals. Because my role involves me in different parts of the programme, I am always aware of everything that's going on in an organisation. It's my responsibility to maintain control over the programme and to flag it up in good time if something threatens to go wrong.
Excellent cooperation is the key to success
I can remember, for example, the implementation of a project for an insurance company. It was me that drew up the planning schedules, prepared the status- and progress-reports and implemented any necessary programme improvements. My programme manager looked further ahead, making the strategic decisions, monitoring the progress of the programme and keeping the stakeholders up-to-speed. By keeping one another well informed, we were always able to establish what still needed to be done. Furthermore, I identified which stakeholders, if any, had to be given additional information, or sought their approval for taking a certain course. It was up to the programme manager to deal with it all in a substantive context. This was how we managed to deliver the successful implementation of that project.
Doing that little bit more
A PMO becomes really indispensable when he or she proactively takes the initiative and does more when the need arises, as opposed to only blindly following instructions. If, as a programme manager, you can rely on your PMO to be structured and able to complement that with curiosity, the ability to take a fresh perspective and good communication skills, the programme will really fly.
Indispensable link
In a nutshell, my advice is don't just use PMOs for simple tasks, but involve them in the complete process. As a PMO I am more than just the programme manager's assistant; I also enjoy thinking along with the programme manager about strategic issues. A PMO is an important – no, more important, indispensable – link in every programme.
Fortunately, ITDS knows exactly how important a role the PMO plays. I have already followed a variety of professional training courses and developed myself in this discipline. If you would like to join us at ITDS, click here to check out our vacancies.