FREDERIK'S FIRST POST-TRAINEESHIP ASSIGNMENT IS AN IMMEDIATE SUCCESS, AND ONE TO BE PROUD OF!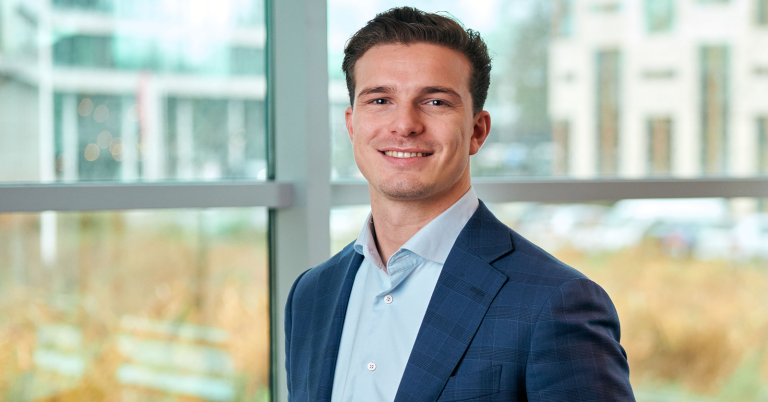 As soon as Frederik Kappers completed his traineeship at ITDS, he was given a challenging assignment at a pension provider. To the complete satisfaction of this client, he then went on to map out the risks entailed in their data migration. In so doing, he proved that there is more to the ITDS Traineeship than just learning theory; it's also about putting it all into practice. "And I'm proud of the results," says Frederik.
Frederik kicked-off his career in the financial world as a recruiter with a worldwide selection and recruitment agency in Amsterdam's Zuidas (the city's financial centre). But he always knew that recruitment was temporary for him, because consultancy had much greater appeal. "And this appeal became even stronger during my Master Business in International Management," says Frederik. "So when ITDS approached me by throwing out a line, I didn't have to think twice. I was immediately hooked. A few of my friends already worked there and they always spoke highly of the working atmosphere. A few discussions with ITDS were enough to convince me that its Traineeship was tailor-made for me. And because ITDS is a medium-sized company you'll stand out sooner and be appreciated more."
Personal growth
Frederik embarked on the first period of the Traineeship, the masterclass, with nine other trainees. In the first weeks, the training sessions challenged him and his classmates to step out of their comfort zone. "During those first weeks I grew hugely, not just in terms of my consultancy skills, but as a person too," assures Frederik. "You really get to know yourself and discover your qualities, as well as your limitations. For example, I'm quite proactive by nature and I pick things up easily, but I found that when it comes to giving advice, my skillset left some room for improvement. This is something I was able to do during the consultancy skills training and I really improved my communication skills. Those training sessions were invaluable and I couldn't wait to put it all into practice."
Great opportunity
Frederik immediately got the chance to put the knowledge he'd acquired into practice during the second part of the traineeship. Then, after completing the traineeship, he was given his first assignment, a challenge in the area of risk management with a Dutch pension provider. The introduction of the Netherlands' new pension agreement meant that this pension provider's IT system had to be completely renewed. All the data in its existing system had to be migrated to a new one. To map out the risks involved in this data migration, Fredrik was tasked with drawing up a risk profile. "It was a challenge that I seized with both hands," he continues. "I am both analytical and hands-on. ITDS recognised this and the pension provider also thought that I was the right man for the job. It was certainly a challenge, but as soon as I was able to formulate a good picture of ​​the organisation, everything fell into place. Thanks to extensive research, putting in the necessary hard work, excellent cooperation with the team, and support from colleagues, we were able to map out all the risks entailed in the migration. The client was very satisfied with my work and I'm proud of the achievement too."
Would you, like Frederik, like to work on challenging risk-management issues for renowned clients in the financial-services sector? And do you have the kind of hands-on mentality that we at ITDS are looking for? You do? Then it sounds as if our Risk Traineeship is really something for you! Want to know more? Check out the vacancy here.