FROM TRAINEE TO CONSULTANT: MICHELLE AND LUDO LOOK BACK AT THEIR FIRST SIX MONTHS AT ITDS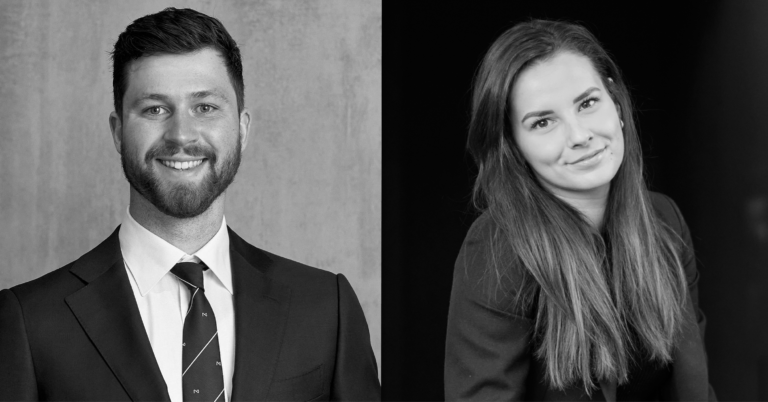 Six months after starting ITDS' Business Consultancy Traineeship, Ludo and Michelle reflect on their story so far. If you are curious about the challenges they faced, how they developed and why they chose ITDS in the first place, read on to learn about their transition from trainee to consultant.
Flying start
Nice slow build-up? No way, not on ITDS' Business Consultancy Traineeship! It kicks off with five weeks of training, which brings you completely up to speed. The weeks are filled with substantive and personal training courses, all designed to challenge you to step out of your comfort zone. Both Ludo and Michelle couldn't agree more that it was a busy, but very instructive period. "During the first five weeks, the main focus is on learning," says Ludo. "There are various training courses, all designed to make a consultant out of you. Afterwards, you get to put everything you learned into practice in your first customer assignment. Really challenging, but great fun." Michelle also found it hectic, with packed schedules and long days, but also very invigorating. "At the end of the day, my energy level was sky-high. But that's not to say that this was a foregone conclusion; it was also thanks to the good atmosphere in the group and several training sessions that really stood out." Nodding in concurrence, Ludo adds that the training weeks were indeed tough: "But, in retrospect, it was all very rewarding."
Solidarity in the group
Fortunately, it wasn't something they had to do by themselves. In Ludo and Michelle's group, for example, there were nine other trainees and there was a palpable sense of solidarity in the group. "The intensity of the training sessions quickly brought us closer together," explains Ludo. For her part, Michelle looks back on the period with great fondness, particularly concerning the contact with the other trainees. "We were a close-knit group right from the start," she insists. "Nice people, and each and every one of them with their own personality. We also did a lot together outside the working sphere. Like eating out and having social drinks. We learned so much together, in such a short time."
First customer assignment
After the five weeks of intensive training, the participants are thrown in at the deep end, as it were, to get started on their first customer assignment. "I'm currently doing an assignment at a large bank," says Michelle. "Working on three projects simultaneously, with three project leaders. One of these projects is the implementation of Salesforce. The second one focuses on building a central data environment, where all data is collected, and the third one is a finance-related project." Ludo, meanwhile, has been doing an assignment with a large funeral insurer since June. "I was able to start almost immediately after the training period," he says, "and I've been with this client for five months now. At the moment I'm working as an analyst, focusing mainly on the funeral insurer's capacity-management model. I am still learning so much, and thoroughly enjoying every moment."
Warm, personal and supportive
And why was starting a career at ITDS so appealing for Ludo and Michelle anyway? For Ludo, the atmosphere immediately felt right. "ITDS is a warm bath, a small-scale company where the personal connection clearly matters. Since I've been here, I've noticed that people with more experience are always willing to make time for you. If you need help, you'll get it. And you also get the opportunity to work independently." It was her fellow students that first put ITDS on Michelle's radar and her enthusiasm about the company increased with every conversation with them. "The atmosphere here was good from the get-go," she assures. "It's an environment in which you feel comfortable and the people are really nice too. At ITDS they give you that little nudge in the right direction that you sometimes need, and let you know that they have confidence in you."
Good to see each other again
After a year of online traineeships, Ludo and Michelle's group was able to return to the office, which was something Michelle was more than ready for! "If you see one another more often, it helps everyone in the group to bond," she explains. "That said, my commute to work is quite long, so I particularly appreciate being able to alternate working from home and in the office." Ludo concedes that he sometimes enjoys the convenience of working from home. "But if I have a lot of meetings, I prefer to be in the office. The freedom to do both is terrific," he adds.
Any questions? The door is always open
It stands to reason that trainees want to ask a lot of questions, particularly at the beginning. And at ITDS you are encouraged to ask them; there's always someone you can approach. "I know I can always approach my manager," says Michelle, "even if she doesn't really have much time. If a problem arises, we tackle it straight away and solve it together. What could be better?" Ludo also feels as if the door is always open when he's up against it. "The number of balls that colleagues here try to keep in the air and still help you out is pretty impressive!"
Has Michelle and Ludo's account fired your enthusiasm? The next Business Consultancy Traineeship starts at ITDS on 29 November and the good news is that you can still apply! Check out the vacancy and apply straight away!