FROM TRAINEE TO INTERNATIONAL CONSULTANCY: MARK'S JOURNEY SO FAR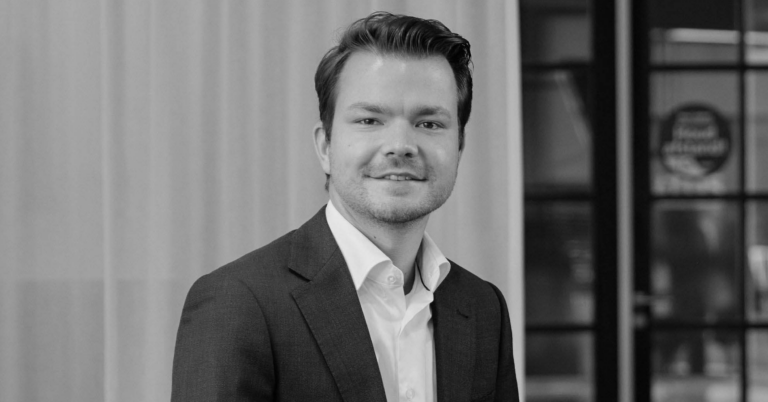 Mark Hebben has worked at ITDS since 2019. He started as a trainee and has since developed into a fully-fledged Business Consultant. For the past two years he's been doing an international assignment at a large bank, where he's acquired plenty of knowledge, done several training courses and enjoyed some great opportunities. If you're curious about Mark's career at ITDS so far, read on.
The Business Consultancy Traineeship 
After completing his master's in Strategic Management at the University of Amsterdam, ITDS approached him via LinkedIn to ask if he'd like to participate in the Business Consultancy Traineeship. "I wasn't familiar with ITDS at the time, but I was more than happy to talk to them. We hit it off straight away; the people, the atmosphere and the assignments suited me down to the ground. I agreed to attend the assessment day and by the end of the day I was offered a contract. I started the traineeship in May 2019."
Proving yourself in the real world
The traineeship teaches you a lot in a short time and it really challenges you, explains Mark. The most enjoyable part for him was the Soft-Skills training courses. "You learn so much about consultancy skills in these courses, skills that will serve you well throughout your career, irrespective of which industry you work in as a consultant. In addition to the training courses I followed during the traineeship, I also did Agile and Scrum training courses at ITDS, where I obtained my Scrum Master Certificate. Completing this traineeship was incredibly satisfying."
First consultancy assignment
After the traineeship Mark did an internship at a large health-insurance company. It was a risk-management assignment and it was his job to make a fit-gap analysis that was based on DNB's Good Practice on risk management in organisations. He compared the design of the health insurer's risk management with the guidelines laid out in the Good Practice and looked for the differences and similarities. It was on that basis that Mark advised the client. "I had a lot of help from ITDS colleagues during this first assignment. I really appreciated them being so willing to support me during my first weeks as a consultant."
Internationale assignment at a large bank
With his internship assignment behind him, Mark then started on a new assignment at a large Dutch bank, working in the Global KYC (Know Your Customer) department. During this assignment he played the role of Business Analyst. Together with a sizeable international team, he set up a system to monitor customer behaviour on the basis of transactions. It was necessary to interview all the relevant business stakeholders, working in branches all over the world, particularly in Eastern Europe and Asia. "The Compliance department of every branch told us which rules they followed and how they wanted the system to be set up. For example, which money flows should be treated as suspicious and which ones should not. We translated it all into user stories and linked it to the system. During this process I served as the link between operational management and the IT department."
After spending some time as a Business Analyst, Mark was promoted to Scrum Master, a role in which he was responsible for the collaboration within his team. "As Scrum Master I really had to lead the team because it was important for us all to work together effectively and perform optimally. To improve that collaboration, I organised several online non-work-related events, during which we'd typically play a game or enjoy social drinks. It was a great way to get to know one another better and, afterwards, our performance as a team really did improve." Being Scrum Master was a huge responsibility for Mark, running a team with members working all over the world. He found it a fascinating assignment and a unique experience.
Providing training at ITDS
At ITDS Mark is also involved in the training courses of the BCT (Business Consultancy Traineeship) and YPP (Young Professionals Programme), in the context of which he and his colleagues are responsible for the planning. Doing this helps him to hone his project-management skills, he insists. "Together with a colleague, I also give a training course in KYC, during which we introduce the trainees to the dubious worlds of financial-economic crime and the financing of terrorism. In this course we explore what they are, why it is so important to combat them, and the role played by financial institutions in protecting society against them. ITDS really does offer some great opportunities, both to its clients and employees in the organisation itself."